I don't remember a first encounter with psychogeography; what I do remember, however, is a pathetic attempt at being a flaneur in the ever so secret corners of London. Although I quit in a matter of say, two days (London is not Paris), I did come back with a few notions and thoughts I would then apply to surprise surprise, French films. After much research and a great deal of theory applied to said films, it suddenly dawned on me that what i have experienced is universal; I guess that is when I started my foray into psychogepgraphy, its implications and the numerous visual examples. Let me take you there.
As an object of study, psychogeography has been defined in 1955 by Guy Debord as 'the study of the precise laws and specific effects of the geographical environment, consciously organised or not, on the emotions and behaviour of individuals'. Alongside the letterists and situationists, groups of French artists and theorists who wanted to react against the changes and norms imposed by the post war situation, Debord established psychogeography as a tool in transforming urban life. 
Strictly speaking, psychogepgraphy talks about the effects being in a specific place generates on one's psyche, referring to the relationship between psychology and geography which was first used by psychogeographers in search of the lost wonders of cities and then applied to the arts. The practice does not imply a process of defamiliarisation before starting the rediscovery, but taking time to look for newness between the known routes, or perhaps look at common things from a different perspective. The activity of walking seems to be a recurring significant characteristic, a mainly urban affair that is daring in the sense that the one who walks goes against the norm and chooses back alleys and unknown streets, thus gaining a new awareness of the urban space and observing the behavioural impact this space has.
One of psychogeography's main means was the dérive, defined by the situationists as the 'technique of locomotion without a goal', in which people surrender to the environment in order to attempt a new reading of it. Debord went on to set up the dérive as one of the principal tools in the Situationists' revolutionary project.
This dérive, or drifting movement becomes a filmic one when we look at Heima (d. Dean De Blois, 2007). Not being directed by an Icelandic director, the film addresses the nation from an outsider's point of view; as a documentary it does not put forward ideas and perceptions, but rather engages with the country on a different level.
Heima is a documentary about the Icelandic band Sigur Ros, who after a long world tour decided to put up a few shows in their homeland. These concerts were free and unannounced and set up in striking locations throughout Iceland. Their "venues" varied from national parks, to ghost towns, a fishing village with a population of two people and caves.
Psychogeography often refers to urban rediscovery but it is difficult to speak of urbanism when it comes to Iceland. Iceland is not urban nor rural and Heima aims at offering an explanation, an insight into the nature of this country. The villages are either entirely abandoned or just forgotten by the people who live their everyday lives without looking too much around. Hence Sigur Ros decided to try and get people out of their comfort zone by making them come out of the banality of their routine and observe something new. Their shows, set in remote places in the middle of the ever changing Icelandinc landscape, somehow force people to watch something else than the band. They are made to look around, discover the newness of the environment they live in. Sigur Ros and Heima are trying to make people understand how by not looking, they are letting go of their surroundings and, in the long run, of their own lives.
If traditionally the psychogeographical act functions by means of walking, in Heima it takes a whole new turn. People are obliged to come out, sit down or stand up and just watch. This situation alludes at the term "robinsonner", coined by Arthur Rimbaud; robinsonner refers to being a wanderer, a flaneur , in a closed off space, discovering things by letting one's imagination roam free. Sigur Ros's spectacle is quite literal as they move people for real and build 'sound pictures', for it is easier to see new things when you have the right support, the foundation on which you can lay new discoveries.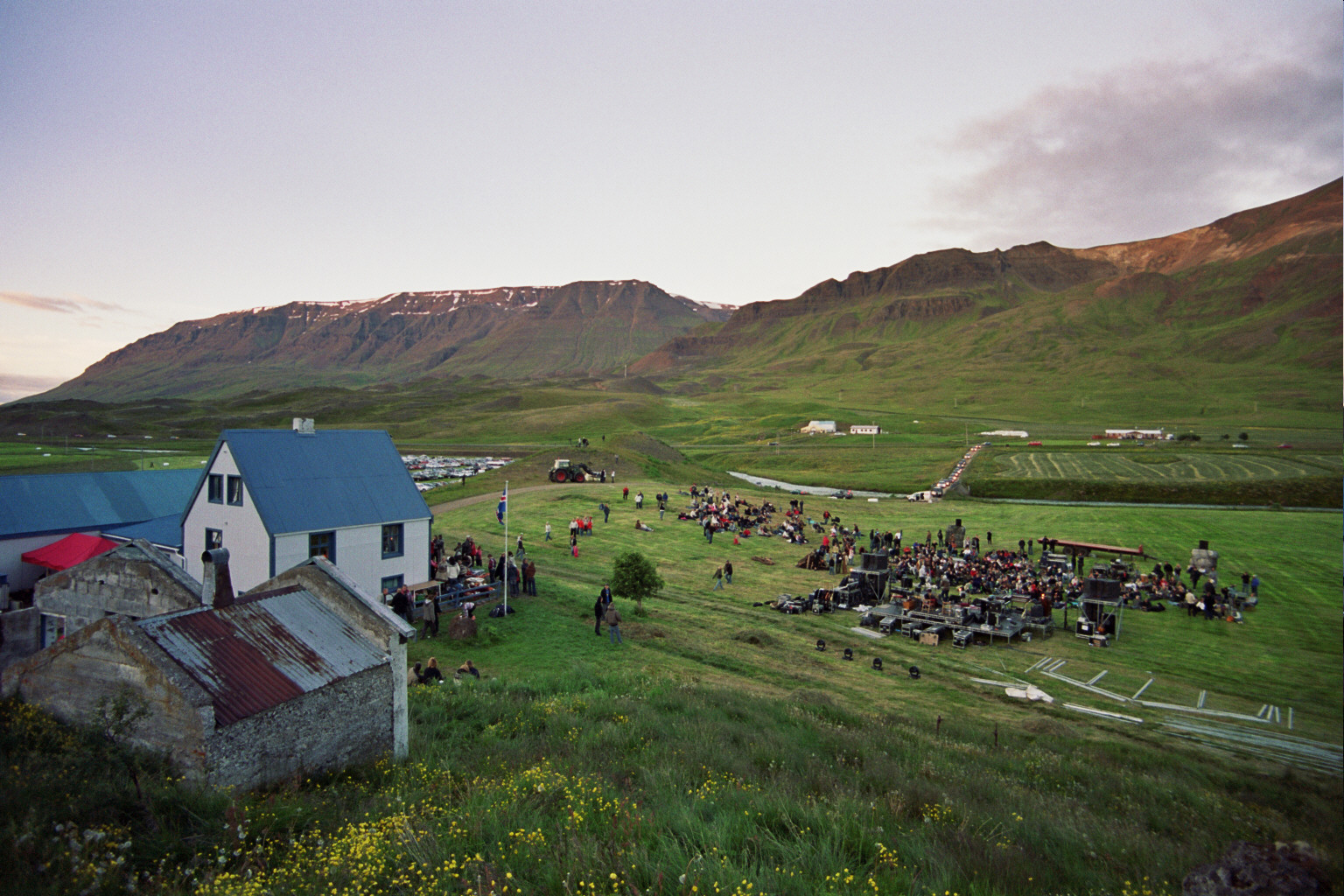 In Heima the waterfalls somehow go against gravity, the water going back up to where it stemmed being a metaphor for Sigur Ros's journey back home. In these watery, secluded landscapes, people come together not to watch the shows, but to do something else. These people get together for a common purpose but they each take on a different route of discovery; the images in the film are thus presented as "new" images people might have encountered.
Perhaps in the city, the psychogeographical act is restricted and, in a way, restrictive, but in a country that is constantly under the shaping forces of nature, the possibilities are endless; it might seem easier to be a flâneur in this kind of environment but in reality, locals need an impulse to come out of their habits, to observe the changes that have been happening with the swapping of the seasons. The banality of everyday life slowly takes over and people need something to move them, physically and emotionally and this is what Sigur Ros do and what Heima presents: the alteration of the environment under the psychogeographical journey.